High Pressure Reciprocating Compressor
Find high pressure reciprocating compressors that adhere to
industry standards and engineering excellence.
About High Pressure Reciprocating Compressor
Compresstech is a reliable supplier of reciprocating compressor high pressure to offer dependable products and solutions for our clients and the industries we serve in the Philippines.
Produced by top manufacturers, our products were made while being particular about quality and engineering excellence to ensure that the units that we release will be able to live up to client expectations and perform exceptionally even in the harshest, most hostile and demanding environments.
Find a reciprocating compressor high pressure from the best industry brands, including GD Belliss & Morcom, fusheng FS Curtis, Boge Pet Design, and Armstrong High Pressure Reciprocating Compressors.
Helpful Resources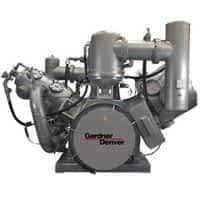 Model Specifications
Oil-Free Compressors for Bottle Blowing
Low Power Consumption
High Operating Efficiency
Ranging from 125Hp to 737Hp
Maximum 40 barg pressure
Small Compact Footprint
Direct Drive Shaftless Motor
Simple Installation
Balanced Operation
Single Compressor Block
Half Load Capability
Robust Construction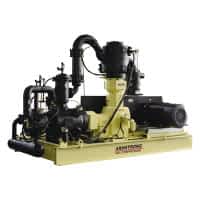 Model Specifications
Oil-Free, double acting, watercooled
Reciprocating Type with "L" design configuration
Low rpm speed
90kw to 315 kw drive motor
Variable Frequency Drive available as option
With closed loop cooling tower
High pressure dryer, receiver, pre & after filters, included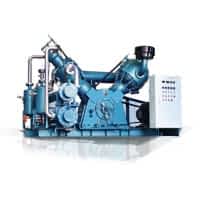 Model Specifications
Reciprocating Double Acting
Oil-Free Air Compressor
Three-Stage, Watercooled
Wide Range of Operation
Ranging from 75Hp to 200Hp
Maximum 40 barg pressure
Semi and fully automatic control system
Cooling water loss protection system
Off-load tarting design
Remote control function available (optional)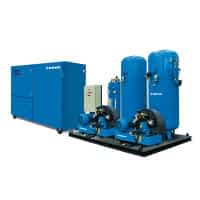 Model Specifications
FLEXPET System
Ranging from 20Hp to 220Hp
Max. Pressure 40 bars
Tailor-made range products for every requirement
Energy saving adaptation to the actual compressed air requirement
Possible to have a frequency   controlled base load machine
Down time for repairs are reduced to a minimum.