Introduction
The air that comes out of a compressor might be hot, filthy, and damp. If not properly maintained, it can significantly shorten the life of any downstream equipment, such as valves and cylinders.
These tools can eventually corrode with time, causing major concern for anyone who relies on air compressors. To avoid this, you should invest in a filter regulator lubricator (FRL) to remove oil, water droplets, and other impurities.
What is a Filter Regulator Lubricator?
An FRL combines a filter, regulator, and lubricator into a single component to keep air compressor systems running smoothly. It is sometimes referred to as a box set. This equipment contains a shut-off valve and gauge, which shortens installation timeframes and lowers labor costs, making it a more affordable choice than separate pieces.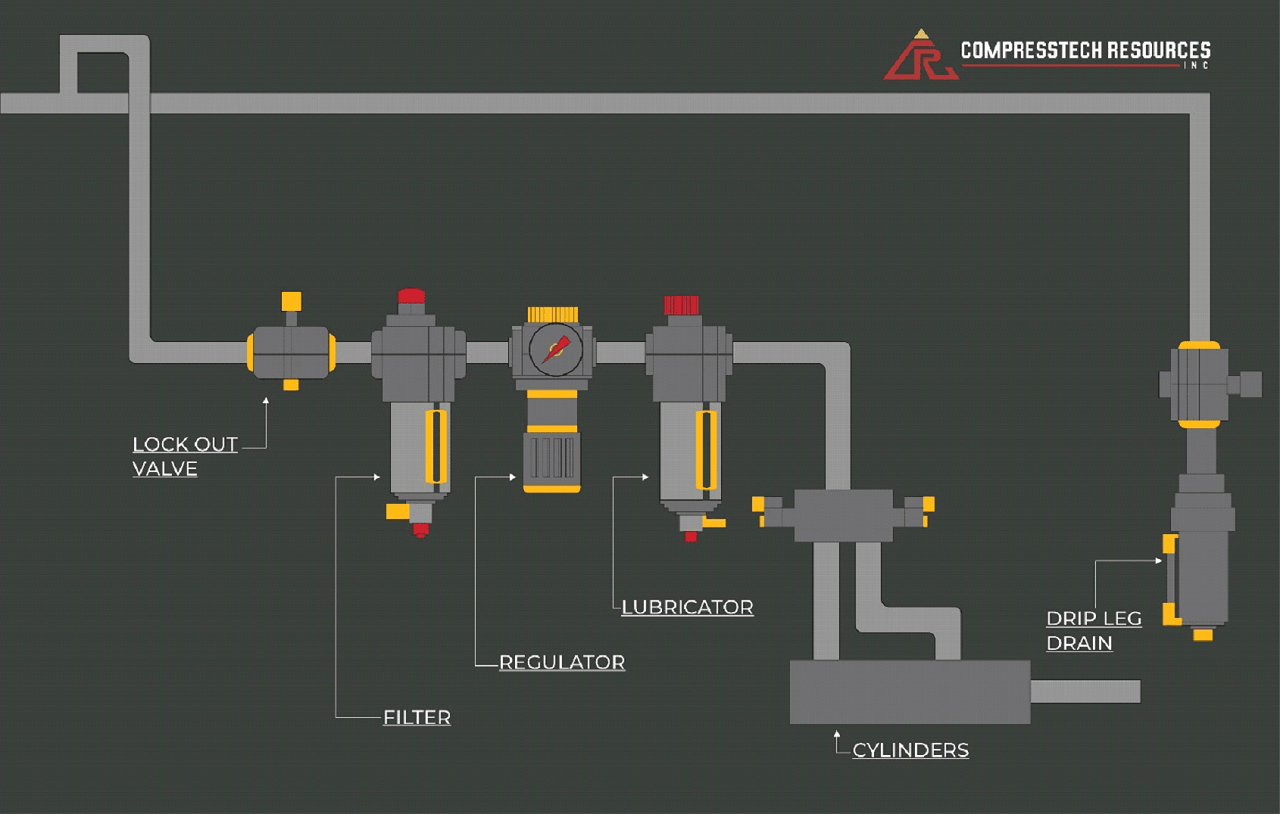 How Does a Filter Regulator Lubricator Work?
To understand how a filter regulator lubricator works, you need to learn first the functions of its three components.
Filter
The filter is the first part of the FRL system, located between the regulator and the lubricator. It cleans the air in the line of pollutants and enables air to pass through while trapping dirt, rust, or dust. In addition, the filter may separate liquids into oil and water.
There are three types of filters: coalescing filters, vapor removal filters, and dry particulate filters.
⦁ Coalescing Filters
They are utilized in the removal of water and aerosols. Coalescing filters work by capturing small droplets in a filter medium and combining them to form bigger droplets. They are then removed from the filter. In addition, these filters include a re-entrainment barrier that prevents droplets from reentering the air.
If coalescing filters are not replaced on a regular basis, they can take particles from compressed air systems and retain them inside the filter media, resulting in pressure reduction. They can effectively remove pollutants and decrease particle levels to 0.1 micron and liquid levels to 0.01 ppm.
⦁ Vapor Removal Filters
Vapor removal filters are often used to remove gaseous lubricants from the coalescing filter. These filters should not be used to collect lubricant aerosols since they employ an adsorption process. This approach uses activated carbon granules or carbon fabric to collect and remove pollutants.
The reason for this is that particles quickly saturate the filter, rendering it ineffective in a couple of hours. To avoid this, run the air through a coalescing filter before the vapor removal filter.
⦁ Dry Particulate Filters
After an adsorption drier, dry particulate filters are utilized to remove desiccant particles. These filters may be used to eliminate any corrosion particles from compressed air. They also function similarly to a coalescing filter in that they capture and hold particles within the filter medium.
Regulator
The regulator works by keeping pressure at an appropriate level for your system. It can lower the pressure entering the system upstream while maintaining a steady flow downstream. The regulator should ideally be under perfect continuous pressure. However, in actual application, it will always be influenced by various factors upstream.
A regulator is used to manage the pressure on a variety of tools, including:
⦁ Aerosol Lubrication Systems
⦁ Air Bearings
⦁ Air Compressors
⦁ Air Cylinders
⦁ Air Engines
⦁ Air Logic Valves
⦁ Air Metering Apparatus
⦁ Blowguns
⦁ Hydraulic Systems
⦁ Spraying Apparatus
Regulators are available in both relieving and non-relieving forms. When the pressure in a system grows too high, a relieving regulator pauses the pressure flow and opens a vent, enabling the pressure to escape. The vent remains open until the system's pressure levels return to normal.
Meanwhile, when the pressure rises, a non-relieving regulator limits the flow. However, instead of releasing the pressure, it retains it. Using this type requires the use of another mechanism to alleviate pressure elsewhere.
This is why non-relieving regulators are better suited to hazardous applications. When it traps excess gases or air, it guarantees that combustible, costly, or dangerous gases are released into the atmosphere in a controlled manner.
Lubricator
A lubricator is a device that injects controlled amounts of tool oil into a compressed air system to reduce friction caused by moving components. Aside from that, most air tools, cylinders, valves, air motors, and other air-driven equipment require it to extend their usable life.
An air line lubricator is used in a FRL system as the lubricator. It overcomes the problems of excessive or insufficient lubrication caused by traditional lubrication techniques such as grease guns or oil. Aside from that, an air line lubricator may provide the appropriate lubrication for the equipment utilized. Keep in mind that insufficient and excessive lubrication can lead to component failure and component seizing after extended downtime.
There are two types of airline lubricators: oil-fog lubricators and micro-fog lubricators.
When using oil-fog lubricators, all the oil droplets seen in the sight dome are directly injected into the airflow, resulting in rather big oil droplets moving downstream.
In micro-fog lubricators, meanwhile, the oil droplets seen in the sight dome are atomized and gathered in the region above the oil in the bowl. The smaller, lighter particles are pulled into the airflow and travel downstream, accounting for 10% of the apparent oil droplets in the sight dome.