Compressed air machines find their way into countless fields, including the pharmaceutical industry in the Philippines. You may have many questions before purchasing equipment for your pharmaceutical company, though. For one, are oil-injected compressors suitable for applications within the industry? Or what equipment can pump blood without contaminating it? To answer these queries, here's a list of 6 compressed air machines for the pharmaceutical industry in the Philippines.
6 Types of Compressed Air Equipment for the Pharmaceutical Industry
1. Oil-Free Air Compressor
Pharmaceutical applications require a sterile environment. After all, consumers in the Philippines are essentially relying on your products to help them cope with their conditions. However, an oil-injected compressor can leave oil in the discharge air stream. If you're looking for a compressor, pick an oil-free machine to prevent product contamination.
2. Air Dryer
Moist air can create an environment where mold and bacteria flourish. It may also carry contaminants or cause the product to degrade, oxidize, or undergo other undesirable changes. Counter this with an adsorption-type twin tower desiccant dryer or a subfreezing dryer, which can give you exceptionally dry compressed air. These air dryers can also reach subzero dew points, making them more suitable than refrigerated dryers for the pharmaceutical industry.
3. Air Filter
Even after compression, the air that you use for manufacturing may still contain moisture and dust, which can land on your products. Deal with this by fitting your compressed air systems with an air filter. Aside from keeping products sterile, this prevents particles and contaminants from damaging or clogging up any processing equipment.
4. Air Knife
Before your products are packed and sealed, they should be completely free of debris and dust. Run pills, tablets, and other products under an air knife to blast away unwanted particles.
5. Nitrogen Generator
Nitrogen gas often features in the manufacturing of pharmaceutical products in the Philippines. Formerly, nitrogen would be converted into liquid for easy transport, only to be turned back into gas for usage. A nitrogen generator does away with the hassle, helping your pharmaceutical company cut manufacturing costs.
Here are some pharmaceutical applications that use nitrogen:
It is used to purging receptacles for sanitation.

Products become stable when chemically blanketed with nitrogen.

Nitrogen helps drugs stay fresh for longer in sealed packaging.

Deionized water maintains its pH more easily when chemically blanketed with nitrogen.
6. Diaphragm Pump
Diaphragm pumps are designed to transfer abrasive or viscous products, such as tablets or medicinal syrups, with ease. They are also useful for filling processes because they are hygienic and precise. Here's a list of some pharmaceutical and biochemical fluids that are transported with diaphragm pumps:
blood, blood cells, and plasma

live cell cultures

solutions and egg emulsions for vaccine production

pill coatings

eye care solutions

fluids for oncology

disinfectants

nutraceuticals and vitamins

creams, lotions, and other topicals

filter media
Product Recommendations for Pharmaceutical Applications
Not sure where to begin your search for suitable compressed air equipment? Here are some recommendations to start you off. Note that all of these products are available from local suppliers in the Philippines!
1. Drypoint® AC Beko Dryer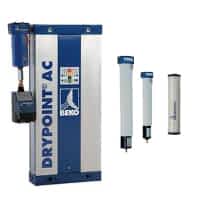 Minimize energy costs by purchasing the Drypoint® AC Beko Dryer for your pharmaceutical manufacturing needs. Built for applications that demand thorough air treatment, this adsorption dryer is capable of reaching a dew point of -40°C.
2. Gast Oilless Diaphragm Pump
The flexibility, rugged construction, and quiet operation of this diaphragm pump make it worth including on your shortlist. The Gast Oilless Diaphragm Pump has a capacity of up to 3.8 cfm and can run in ambient operating temperatures of 40°C.
3. Inmatec Nitrogen and Oxygen Generator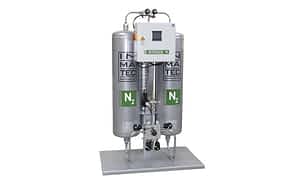 Need 99.9999% pure nitrogen for your applications? Invest in this German-made nitrogen and oxygen generator from Inmatec, built with pressure swing adsorption technology for safety and efficiency. It also features a user-friendly and multilingual touch control panel, as well as remote control functionality via PC or iPad.
With this guide, you'll know what compressed air equipment to purchase if you're in the pharmaceutical industry in the Philippines. Don't settle for the first machines you see, though! Just as you want to provide high-quality products to the Philippine market, your pharmaceutical company needs reliable, world-class equipment.
Get the best equipment around by inquiring at Compresstech Resources, Inc. As an industry leader in the Philippines, we can supply you with suitable compressed air machines and provide you with expert insight to optimize your pharmaceutical applications. Contact us today to find out more!
Read more helpful articles on compressed air machines for different applications by visiting our blog regularly.